NWEA Tests
Minnetonka students in kindergarten through 8th grade participate in District-wide tests in early fall and each May. These tests measure what your child already knows in math and reading and what your child still needs to learn. Each year, the results assist teachers in targeting instruction to your child's "just-right" learning level. The May tests assess each child's academic growth during the year.
To answer the questions, "how is my child doing compared to expectations for his or her grade?" or, "is my child on track to gain a year's growth in a year's time?" parents can compare their child's growth scores with national norms. Look at both the RIT score compared to national norms and the national norms for growth in the four charts below.
NWEA RIT Scores by Grade Level National Norms
(On average, Minnetonka students score many grade levels above national norms.)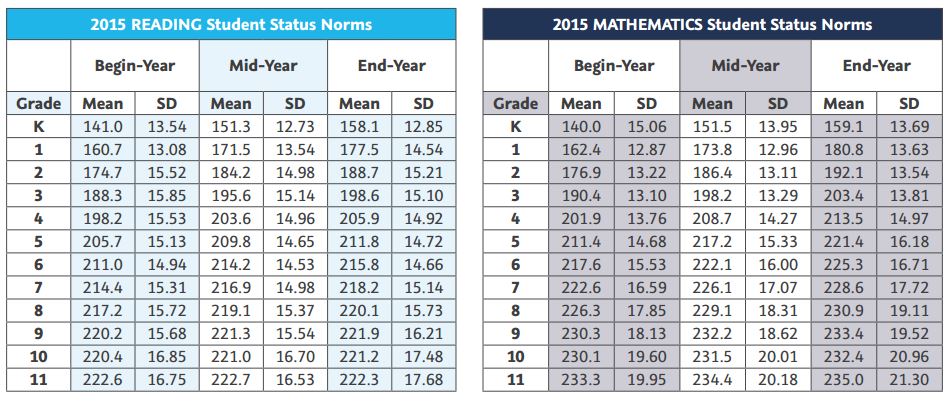 NWEA Growth Norms
Minnetonka students take the NWEA each fall and spring. Compare your child's growth with the number of points expected in a grade level in the Begin-to-End Year column. Growth norms developed for the RIT Scale Norms Study reflect the common observation that the rate of academic growth is related to the student's starting status on the measurement scale; typically, students starting out at a lower level tend to grow more.

National Growth Norms
When Minnetonka student achievement is compared to the national norm, our students gain more than a year's growth in a year's time. By the end of 5th grade, students are achieving beyond the 11th grade level. With such a strong foundation, Minnetonka students are well-prepared to challenge themselves with Advanced Placement and International Baccalaureate courses later in high school.
NWEA assessments are unique
Students take the tests on a computer. The questions automatically adjust to your child's appropriate level of learning, based on previous responses. Essentially, each test is customized to each student to pinpoint the appropriate instructional level. Students who have traditionally found standardized assessments to be too challenging, and therefore frustrating, find a better balance of comfortable and challenging questions. Students who have traditionally breezed through standardized assessments find more challenging questions. With this testing system, high-ability students find there is no longer an artificial ceiling in testing their academic achievement.
Measuring growth
This technology allows a student's academic growth to be measured more precisely and more efficiently. The assessments are shorter than traditional standardized assessments and use less class time while still cataloging detailed, accurate information about your child's academic ability and growth. Each child spends a total of about three hours in the computer lab completing these assessments during the three-week window.
Following the assessments, you will receive a report showing your child's baseline score for this fall. On subsequent tests (each spring and fall), you will also see a growth score to help monitor whether your child is achieving a year's growth in a year's time. Each report also provides a scale of scores in relation to grade level norms and a Lexile score.
The Lexile score provides a reading level range
You can visit www.Lexile.com, enter the Lexile range, and receive a list of books, by genre and age, that fall within your child's appropriate reading level. Note for parents of strong readers: Not all content published at your child's reading level is appropriate for your child's maturity level.
Books on the low end of the Lexile range are ideal for independent reading and will build reading fluency and speed.
Books on the higher end of the Lexile range might be read and discussed between you and your child, their teacher or peers to stretch your child's reading skills– especially in the areas of vocabulary and comprehension.
The efficiency of the new testing system will also provide more immediate results for educators. Teachers and principals receive the test results within days of testing, as opposed to months following state assessments.
We are truly excited to begin a new era in assessment that focuses on every child's individual growth and achievement.
About the test and testing company
Northwest Evaluation Association (NWEA) is a non-profit organization that partners with school districts throughout the United States. More than 1,900 school districts use NWEA assessments, including Bloomington, Chaska, Eden Prairie, Edina, Wayzata and other Minnesota districts.
With the largest norm-reference group in the nation, NWEA reports highly accurate norm-referenced scores. However, NWEA results go beyond simple percentile ranking of student achievement or indicating grade level performance. NWEA will also measure academic growth over time, independent of grade level or age.
Educators use NWEA test scores to identify the skills and concepts students know and what they need to learn next in order to keep growing. With accurate, timely information on an individual student's needs, educators can target instruction so every student is learning and growing.
NWEA assessments are aligned to Minnesota Standards and are often used as an indicator of preparedness for state assessments. Most districts administer the NWEA two times each year to allow educators to monitor the progress of students. Student test results are maintained test after test, so teachers and parents can monitor the growth of individual students year after year.